When it comes to flooring, there are different types of flooring materials to choose from. But, this does not mean that you randomly pick on a flooring material and that's it. Flooring plays a significant role in influencing the ambience of a space. There are several factors that you have to put into consideration before making a decision. You want something that reflects your taste and style but most important is your budget. We shall have a look at some of the significant things you should know when it comes to flooring.
Important things to consider when choosing the flooring
Before deciding on the type of floor to settle for, there are several things that you have to consider. The most crucial is the budget and cost. Of course, you want something that you can afford. You can always find a variety of quality flooring supplies that fit within your budget. With the help of our flooring specialist, you will be able to choose your most suitable option. 
Knowing the colour and texture of the material you want also plays an important role in narrowing your search. Whether you want a material that can withstand traffic or one that is easy to clean, we have just the right solution for you. Being sure of the properties of the material you want really helps when choosing one.
Durability is yet another thing you have to consider. You do not want to choose a material that will wear easily or that which is of poor quality. Does the material hold well in foot traffic, kids or even broken objects? This is one question you should ask yourself before making a decision. 
The other crucial thing you should look at is the appearance. The type of floor you choose goes a long way in determining the interior decor of a room. You would want to go for one that will suit the decor ideas you had in mind. We provide a variety of options to choose from.
Another important thing to have in mind is the ease in maintenance of the material. It is advisable to be familiar with the maintenance requirements to ascertain whether you will be able to manage once the flooring has been installed. For instance, stone tiles need to be polished after a few years, hardwood floors need refinishing every once in a while, and other materials might need regular cleaning and so on.
These are just a few of the things that can help you in making the right choice for your flooring. With them in mind, you will be able to get what suits your style, taste and preference among other things.
What are the different types of flooring?
Flooring happens to be very crucial when it comes to the interior decor of a room. Be it during building or remodelling, one has to be keen when choosing the right flooring. The type of flooring matters for both commercial or domestic buildings. The various flooring types that we shall discuss include the following:
Wooden flooring

Vinyl flooring

Carpets

Ceramic tiles

Different wooden flooring options
There is quite a wide range of options when it comes to wood flooring. At Ox Flooring, we supply the best high-quality wood floors in Oxford. From those with natural colours, rustic woods to coloured woods that suit your requirement. Some of the material available includes the following:
We all know that real wood flooring works well with both contemporary and classic interiors, regardless of the setting. Other than being hardwearing and extremely durable, oak gives character to the room. Choosing the right colour is important as it will have an impact on how the rest of the design will look.
For instance, brighter colours tend to show wear and tear easily compared to darker colours. They also affect how your wall colours appear. Another option is the pine flooring. It is a desirable choice thanks to its versatility and the modern understated style. The rustic appearance of pine makes it suitable for adding warmth to the interior of a home or even a commercial office.
Pine flooring is durable and environmentally sustainable. This is because it grows faster than any other hardwood used for flooring such as walnut. Also, being a softwood, it is generally cheaper than hardwoods making it quite affordable. Its downside is that it reveals wear and tear easily and the need for regular maintenance and refinishing.
From modern laminate to reclaimed hardwood, the warmth and textures of wooden floors – whether faux or the real deal- is a popular choice for homeowners.
Hardwood floors are quite a favourite for many. Preferable for areas with less foot traffic and rooms that are not often wet. You can get your hardwood flooring in either of the forms listed below:
Unfinished – it is sanded and finished once the flooring has been installed.

Prefinished – It needs no finishing on-site/ once installed.

Engineered form

– this is plywood-like material with a hardwood top layer.
The performance, cost, installation and maintenance of bamboo flooring are very similar to hardwood flooring. There is also the option of laminate flooring. It is a compressed fibreboard plank that is covered with a photographic image of wood and it also has a protective overlay.
Parquet flooring and reclaimed wood flooring are the other options that you can consider. For the wooden floors, it is best to avoid having them in rooms such as bathrooms where moisture might cause them to wear quickly. If you do prefer the natural colour of wood, you can treat your floor to prevent any darkening with age or leave it as it is. 
Choosing among different types of vinyl flooring
We have a wide array of quality vinyl flooring options that you can choose from. Suitable for bathrooms, kitchens, utility rooms, conservatories and even outside spaces, these materials come in unique design options. 
A good example is the luxury vinyl tile (LVT), which is most suitable for active homes. It comes in either stone or wooden looks that are designed to resist moisture and withstand everyday wear and tear. This makes this type of flooring durable and easy to clean.
Rigid core flooring is the other option you can go for. It features the characteristics of various flooring types such as luxury vinyl flooring and laminate. This type of flooring can withstand high traffic and its water resistance is another added advantage. Its dent resistance also makes it a good choice for both domestic and commercial buildings.
Vinyl plank flooring is a good choice for a cost-effective flooring.
There is also the vinyl sheet flooring which comes in a large roll that is cut to size. It's a great alternative for those who want the hardwood or ceramic tile look at a cheaper cost. All this is possible, thanks to the print technology used to produce them. Other than durability, the material comes in different designs and is suitable for the bathroom, kitchen or any other room of choice.
Last but not least, we have vinyl tiles. They are pretty affordable and require very low maintenance. Durability and the fact that it can be installed in any flat surface make it a suitable choice. If you are looking for affordable quality flooring options, then vinyl flooring is something you can consider. Their exceptional durability and the fact that they are warmer and quieter under foot makes them a worthy option.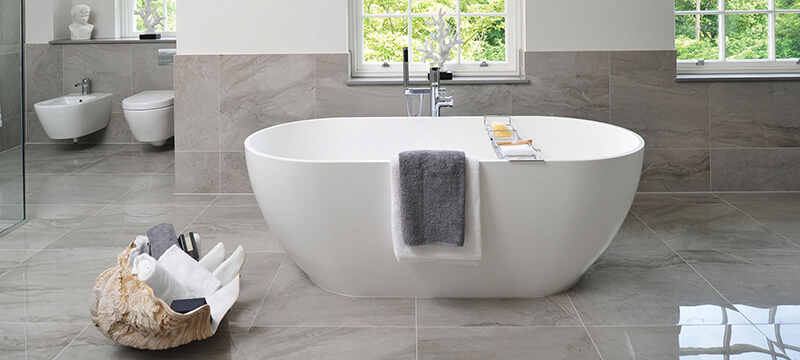 Different types of Ceramic tiles flooring
Ceramic tiles are a hard material that comes in different shapes, sizes and unique design patterns. We offer the best high-quality and economically priced ceramic floor tiles that suit your needs. It is important to be sure that the ceramic tiles you want to use are suitable for flooring since not all of them are tough enough. We shall have a look at several types of ceramic tiles that you can consider for your flooring options below:
Porcelain tiles – they are available

glazed or unglazed

. The two types are stain-resistant and are a good fit for outdoor rooms. These tiles are also extra-hard and durable. 

Glazed ceramic tiles – they have a glass-like coating that can virtually give the tile any texture or colour. One great thing about this type of tiles is that they barely need any maintenance. 

Quarry tiles – it is slightly more slip-resistant than glazed tile because of its slightly rough texture.

Terracotta – it is unglazed and comes only in earth tones. It is slightly less durable than the other types of tile flooring and needs more maintenance.
Ceramic tiles are the perfect fit for your kitchen, laundry rooms and bathroom as they are water-resistant and non-slip. Also, the fact that they're stain-resistant and easy to clean making them a great choice. They are also easy to replace and come in different price ranges. You should also note that tiles feel hard and uncomfortable underfoot and once you drop any objects like glass, there is easy breakage. 
We have a wide range of ceramic tiles sourced from some of the best and most reliable manufacturers. Regardless of your budget or preference, there is something to suit your requirements.

Different carpet flooring choices to consider
Whether domestic or commercial use, we have different and quality carpet flooring options to suit your different requirements. Our customers are sure to get the best value for their money since we source our carpets from some of the most reliable manufacturers. 
From brands such as Comer and Cavalier, we always make sure our customers have the best quality wool carpets. If you are looking for a carpet for your cloakroom or playroom, we got you! Also, it's important to note that our carpets are economically priced hence there is always that which is suitable for your budget.
Listed below are several carpet materials you may consider to have for your carpet flooring:
Wool

Nylon

Acrylic

Polyester

Polypropylene
If you are trying to find a carpet in Oxford, we are the solution to your troubles. We have several varieties, materials texture and colours you can choose from. Other than having our very own outstanding brand called Fitzroy, we also have eco-friendly carpets made from recycled products.
There is also the modular flooring/ carpet tiles which allow us to give you a unique flooring solution to suit your particular requirements. Carpets tend to be a popular choice for most people because of their comfortable and warm feeling. Most carpets are durable and easy to maintain although they can wear and stain if exposed to any dampness or water.
Apart from the types of floors discussed above, the other flooring options you can consider include the following:
Cork flooring- it's made from a particular type of bark from a tree which can be harvested without killing the tree. The material is warm, slip-resistant and an

eco-friendly

choice. It is also vulnerable to dents and moisture hence making it less suitable for high-traffic rooms or wetness. Can be suitable for living rooms, dining rooms, kitchens and bathrooms.

Linoleum – it's made from natural renewable components such as cork powder and linseed oil. Being moisture resistant and eco-friendly are a few of the properties that make it an awesome choice.

Bamboo hardwood – suitable for bedrooms, living room, or hallway. The flooring installation cost for bamboo might be higher than the actual cost.

Vinyl – it is flexible and more comfortable to walk on. They come in various forms, from sheet vinyl to vinyl planks and tiles.

Laminate flooring

– it is constructed much like engineered wood and it can mimic wood, stone or tile at a very low cost. They're easy to clean and less maintenance is required. Its scratch-resistance levels are better than that of real wood. They are suitable for high traffic areas although it is best to avoid having them in wet areas such as bathrooms.
By visiting our showroom, you will get to explore the various options we have available at your disposal. There is also a wide range of designs to suit your taste. 
What is the most durable type of flooring?
With the many types of flooring, there are those that are more durable than others. For instance, ceramic tiles are long-lasting as well as stone flooring, concrete and marble. They are easy to clean and hardwearing compared to the rest. If you are looking for a durable floor type, you want something that will last you long enough without needing to be repaired.
For some floors, different types come with varying levels of durability. With such you have to be very keen when choosing what you want. You also have to consider the level of daily activities. Some floors are more suited for traffic areas when others are not. When you put a floor that cannot withstand daily activity, then it's likely to wear faster.
By consulting with our professionals, they will be able to guide you and help you choose the most durable type of floor. With the wide range of products we have, you cannot miss one to satisfy your requirements or needs.
What type of flooring design is best?
For you to decide on the best option, there are several things that you have to put into consideration. If it's a domestic building, you need to think of how the flooring will impact the residential interior design. As you decorate the interior of a house it is always advisable to start with the floor as you move on to the other aspects such as the walls, furniture and so on. The best floor option, in this case, will be one that matches with your design ideas.
Below is a shortlist which will give you a hint of the best floor for each room:
Bedroom – carpet, real wood, laminate or vinyl.

Kitchen – vinyl is the best flooring for kitchen, as it is water-resistant and easy to clean. You can also opt for ceramic tile or laminate flooring.

Lounge/dining room or living areas – here, it's a matter of aesthetics or preferences since all floor types are deemed suitable.

Stairs – carpets are a good choice since they are less noisy.

Bathrooms or any wet rooms – ceramic tile and vinyl are a perfect choice since they are unaffected by water and need minimum maintenance. Avoid having any carpets in such rooms or untreated wood because they will be destroyed or wear quickly. Also when choosing you'd want to go for the vinyl with an R10 rating because it is sip resistant.
There are also suitable flooring choices for commercial buildings as you can see in the list below:
Vinyl – it is easy to maintain and clean, making it a great choice for hospitals or care homes. The fact that it is also hardwearing and can withstand heavy foot traffic makes it a suitable choice for most commercial buildings.

Safety flooring – it's a form of rubber flooring that is slip-resistant. It is important for industries as it helps in creating a safe working environment and it is also easy to maintain and keep clean.

Commercial carpets and carpet tiling – they're common for most businesses because of the aesthetic quality that can be achieved. Carpet tiles are the most common in offices. This is mainly because there is very little wastage and easy access to raised floors.
If choosing the most suitable flooring type is challenging for you, we always have a team that is ready and willing to help you make the best choice. In many cases, once you are done installing the different types of flooring,  it is advisable to get rid of the waste in the most eco-friendly way. You would want the most environmentally safe clearance solution.
Having looked at all the flooring types available, it is clear that we have the ultimate solution for you. Budget-friendly and high-quality products to suit your needs and requirements. Not to mention that our professionalism and dedication is second to none. We ensure that you get quality flooring supplies from the best flooring manufacturers. The only place that makes your flooring purchase easier than ever before.