When it comes to natural flooring materials like ceramic, marble, or wood among others, vinyl provides a low-cost flooring option because of how it can mimic the feel and look of the original material. Most of the time you can install vinyl tile flooring on any existing flooring. With vinyl flooring in Oxford gaining more popularity compared to ceramic tiles, the big question most people tend to ask is whether laying vinyl floor tiles over existing tiles is a possibility. Well, the answer is yes!
You can definitely install vinyl flooring over ceramic tile but you may have to spread levelling compound or lay plywood or hardboard to flatten the floor first
What is vinyl tile flooring?
As mentioned earlier, vinyl flooring is the type of flooring that can seamlessly replicate the feel and look of natural materials like wood, ceramic, and limestone among others. It has also become a very common option for many homeowners thanks to its properties and improved appearance.
With the different designs available, people have a wide variety to choose from. Whether you want to use the vinyl flooring in your new construction or during a renovation or refurbishment of your home, you won't be disappointed.
Not only is vinyl flooring warmer and quieter underfoot, but it is also exceptionally durable. Not to mention the water-resistant options which are good for either the bathroom or kitchen.
You also don't need to worry if you have an active home since there is the LVT(Luxury vinyl tile) which is well suited for high foot traffic areas.
Rigid core, vinyl sheets, and vinyl tiles are some of the other options you can settle for. With these options, not only is the required maintenance low but the durability is quite commendable. All you need to do is visit our flooring shop in Oxford and one of our specialists will guide you accordingly.
How do you lay vinyl flooring over tile?
Having established that installing vinyl flooring is a possibility for both ceramic and porcelain tiles, the big question is how?
You might decide to take the DIY route or even hire a qualified builder to do the job for you. With the right builder, installing your vinyl flooring should be a hassle-free task since they have the expertise and craftsmanship needed. When it comes to the installation of any flooring material, the type of base used plays a very important role in determining how long-lasting and beautiful the floor will look. It is not any different for vinyl flooring.
Before starting the process of installing vinyl over tiles, make sure you scrub and properly clean your ceramic tiles. Once you're done cleaning, it is essential to ensure the floor is ready for installation.
It is important to ensure that the surface is flat and well levelled to avoid seeing and feeling any bumps or grout lines underfoot. Any imperfections in the underlay can cause vinyl flooring to wear easily and form craters because of the light and flexible nature of the material.
If the ceramic tiles have deep grout lines, they need to be filled with a levelling compound to avoid showing on the surface. You can also choose to have a new subfloor like hardwood or plywood for a smooth surface. Whether it's sheet vinyl, vinyl plank, luxury vinyl, or even tiles, the subfloor needs to be smooth for good results.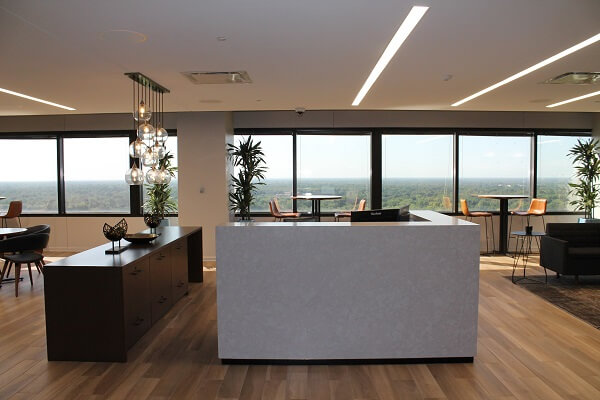 Vinyl flooring options to consider
As mentioned earlier, there are several options to consider when you're thinking of vinyl over tile flooring. The different designs available, as well as their affordability, ensures there is something for everyone. The type of room and level of activity are some of the things that determine the most suitable choice for you. Some of these options include the following:
Waterproof vinyl plank flooring. As the name suggests, this option is suitable for areas that are prone to getting wet such as the bathroom and kitchen because the vinyl plank material is water-resistant.
LVT plank flooring. These tiles snap together like laminate planks and they feature stone, geometric patterns and wood.
Glue-strip planks. This is one of the most affordable vinyl plank flooring options. The peel-and-stick strips that hold them together make the installation process even easier. In situations where the subfloor surface is not smooth or it's dirty, the glue might not stick giving disastrous results.
Rigid core flooring vinyl. This option is not only a perfect fit for high foot traffic areas and commercial buildings, but it is also waterproof and extra-durable, thanks to the rigid core.
Advantages of having vinyl flooring over ceramic tile floor
We have mentioned earlier some of the advantages of vinyl flooring which include their affordability, durability, water-resistance and the low maintenance needed. Some of the other advantages you can enjoy include the following:
There's additional insulation. The ceramic tile underneath provides additional insulation to the room especially considering how thin vinyl flooring is.
You get the desired thickness. With vinyl flooring, you will not need to reduce doors because of the thin nature of the material.
Great temporary floor option. If you intend to have your ceramic floor after a while, you can always have the floating vinyl floor as an option since you can easily remove it after a while.
Considering the advantages listed above, it would be hard to find any reason not to have vinyl over ceramic tile. It is also important to note that the option you choose, between vinyl sheet, plank or tile will determine whether you'll need any transition strips or if there'll be any complicated procedures.
Also, if your ceramic tile has radiant heating, floating vinyl planks are preferred over a glue-down vinyl tile and sheet flooring because their adhesive doesn't hold well in high temperatures.
The tile shops Oxford provide various options when it comes to flooring materials. Whether you're looking to have carpet flooring, ceramic tiles or even wood flooring among others, the options are many. You also get a professional flooring expert to advise you accordingly, so, making the best choice for your home will be easy. Once you have your design in mind, we shall make your purchase experience smooth.